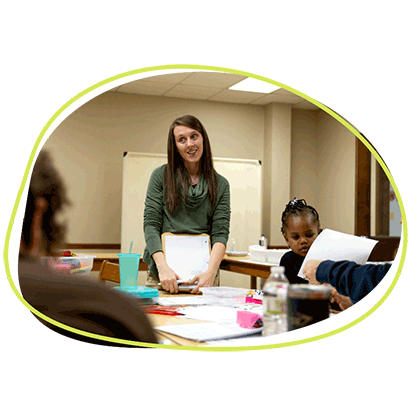 Holistic poverty alleviation
Poverty is more complicated than many people think. It's not simply due to a lack of money.
The Mission recognizes that poverty is not just a lack of financial or material resources. Poverty can also be a lack of health, spirit, or relationships. NETworX brings clients and community members together to address and overcome all areas of poverty.
NETworX exists to reduce poverty at its holistic core by providing support, resources, and tools to help individuals achieve their goals. Participants are people from all walks of life interested in building reciprocal friendships of support through education, love of neighbor, and love of self. This three-phase program starts with education and moves to leadership skills and group projects to strengthen our community and reduce the rate of poverty.
Each NETworX cohort is comprised of 10 to 15 community members across all socioeconomic levels. Different perspectives and experiences are vital to the success of each individual. Whether you need help or want to give help, all are welcome. Most participants find they learn just as much as they give.
NETworX offers an adult, youth, and children's curriculum.
The program consists of weekly classes that start with a family-style meal and networking. The second hour is then dedicated to the curriculum and covers topics such as abundance in relationships, trauma and resiliency, budgeting, and leadership.
Classes run from 6 p.m. to 8 p.m. on Tuesdays. 
NETworX Informational Meeting – August 1st, 6 p.m. to 8 p.m.
New classes begin August 15th! 
Phase I
Get to know your cohort, dive into the curriculum, and begin to grow together.
Phase II
Each cohort chooses three topics from Phase 1 to explore at a deeper level. These are tailored to each group based on their needs. (Financial literacy, health, and leadership are also prominent discussion points in phase two.)
Phase III
By phase three, the cohort is a cohesive group working together on a community project they feel passionately about. This could be advocating for affordable housing, raising awareness about a particular topic, working on a project with the school system, or acting as connectors in the community–the possibilities are endless!